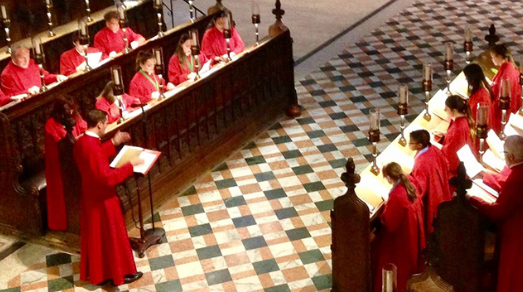 Jon Payne is a versatile choir trainer/director, accompanist, organ recitalist, and jazz pianist. He is at home in a variety of genres: whether playing continuo for Armonico Consort in London's Cadogan Hall, directing 600 children in Birmingham's Symphony Hall, or playing the cathedral organ for a Jethro Tull concert!
He has an active programme as an organ recitalist, and has played in Norwich, Peterborough, Durham, Worcester, Ripon, Bradford, and Exeter Cathedrals - amongst many other venues in the UK and abroad. His first love is accompanying - and his psalm accompaniment, improvisation, use of registration, hymn playing, and imaginative 'last verse' harmonies are much remarked upon wherever he plays. He is a former Organ Scholar of Norwich Cathedral and Sub-Organist & Assistant Director of Music at Bradford Cathedral, and was Director of Music at St Thomas' Church, Stourbridge. He has broadcast on many occasions, notably for BBC One's 'Advent Hope' series, and for an ITV broadcast of choral Georgian Mattins. 
As a conductor, he has worked with over 100 choirs - including singers of all ages and abilities from 'beginner' level through to professional choirs. His warm, engaging manner, his acute ear, and his comprehensive knowledge of the voice combine to help choirs achieve their best. A number of Jon's choirs have achieved success in the 'Choir of the Year' and other competitions. In 2017, he directed Bradford Cathedral Choir in a broadcast for Premier Christian Radio. 
Now based in Norfolk, he recently completed eight months as Acting Director of Music (maternity cover) at St Peter Mancroft Church, Norwich. He now works on a freelance basis, playing and accompanying for church services, concerts, and recitals across the UK.